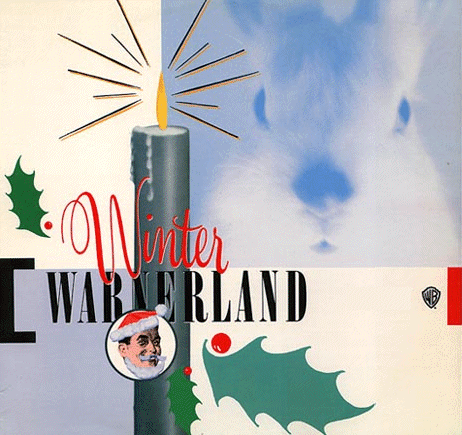 WINTER WARNERLAND
---
Side one:
1.JEFF LORBER God Rest The House
2.GOOD QUESTION Winter Wonderland
3.COLD CHILLIN' JUICE CREW Cold Chillin' Christmas
4.TRAVELING WILBURYS (NELSON WILBURY) Holiday I.D.
5.GARDNER COLE Maybe This Could Be The Christmas
6.JAMES INGRAM Holiday I.D.
7.APOLLONIA Holiday I.D. (English)
8.APOLLONIA Holiday I.D. (Spanish)
Side two:
1.PM Once In A Blue Moon Rising
2.SECRET WEAPON I'm Coming Home
3.DANIEL LANOIS Fais Do Do
4.MARK O'CONNOR What Child Is This
5.JIM HORN Silver Bells
6.PEE-WEE HERMAN Christmas Medley
7.TOMMY PAGE Christmas Without You
Side three:
1.SANTA'S HARLEY
2.ZZ TOP Holiday I.D.
3.BULLETBOYS Holiday I.D.
4.JESSE ED DAVIS Santa Claus Is Getting Down
5.LOS LOBOS Rudolph The Maniac Raindeer
6.R.E.M. Deck The Halls
7.HUGO LARGO Angels We Have Heard On HIgh/Gloria
8.LOU REED Holiday I.D.
9.DANIELLE DAX Blue Christmas
10.THROWING MUSES Santa
11.OFRA HAZA Holiday I.D.
Side four:
1.54-40 2000 Years of Love
2.HONEYMOON SUITE I Believe in Father Christmas
3.JULIE BROWN Ways To Save Money At Christmas
4.PETER CETERA Holiday I.D.
5.PETER CETERA Silent Night
6.RANDY TRAVIS Holiday I.D.
7.RANDY TRAVIS How Do I Wrap My Heart Up For Christmas
8.PEE-WEE HERMAN Don't Drink And Drive, Duh
9.PEE-WEE HERMAN Pee-Wee Wilbury I.D.
10.SANTA'S JET