Monday, February 28, 2000
Health Ministry officials admit:
Ofra Haza died of AIDS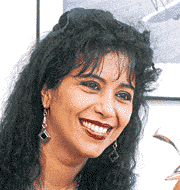 By Ran Reznick
Ha'aretz Health Correspondent
Singer Ofra Haza died from complications resulting from AIDS. Haza was hospitalized at Tel Hashomer's Sheba Hospital on February 13 in a critical condition. Nurses on duty in the emergency ward suspected that she had a cancerous disease or AIDS because of her low weight. A senior doctor at the hospital claims that neither Haza herself nor certain members of her family informed the medical staff that she was infected with HIV, the virus that causes AIDS.
Only on the day after her admission to the hospital did the results of blood work confirm that Haza was indeed infected with HIV. Haza was transferred out of the emergency ward to the respiratory intensive care unit.
As far as senior medical staff at Sheba know, Haza's death was the result of complications caused by medication she was receiving for the treatment of the disease, which caused the collapse of her internal organs and the quick and fatal deterioration of her condition.
Senior officials at the Health Ministry and at Sheba state that some of the medical and nursing teams who treated Haza, as well as lab workers, are furious that they were not told of Haza's infection, putting them at risk, since they did not take the precautionary steps necessary when dealing with patients suffering from AIDS. Blood samples taken from AIDS patients, for example, are usually marked "potentially dangerous material." A senior worker at the hospital's lab says that Haza's blood was not marked with such stickers until 48 hours after her admission.
Senior Health Ministry managerial staff and doctors at Sheba, including the heads of departments, confirmed Haza's disease and the claims of medical staff members that her condition was kept from them.
Sheba's administration, however, officially stated, "We refuse to comment on the cause of Ofra Haza's disease." On the issue of concealing the disease from the staff, the response was, "No verbal or written complaints have so far been received by the administration. Every patient's medical file contains all their information."
High-ranking staff members at Sheba have told Ha'aretz that the event demands the immediate compilation of clear standards that would compel patients to fully inform the hospitals of their medical condition while undergoing treatment, carry out HIV tests on every patient hospitalized in the emergency ward, and enshrine in law the rights of doctors and nurses in addition to the rights of patients.
Health Ministry Director-General Professor Joshua Shemer said that he would investigate the staff's claims, but refused to confirm the events surrounding Haza's death. Dr. Eran Segel, head of the respiratory ICU unit where Haza was hospitalized until her death last Wednesday, would not confirm or deny the cause of Haza's death. The singer apparently requested Dr. Segel not to reveal her condition.